AMI? AMS? MACTE? What Training Should You Get?
---
by Matt Bronsil, author of English as a Foreign Language in the Montessori Classroom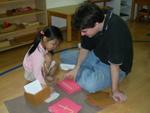 Which Montessori Teacher Training is the best? Let's look at the options and see if any of them fit your needs.
AMS vs. AMI
The Two Largest Montessori Training Organizations
There are many options for training to become a Montessori teacher trainer. Association Montessori Internationale (abbreviated as AMI), and the American Montessori Society (abbreviated as AMS) are the two largest organizations that train teachers. First, let's go over some basic differences about the organizations themselves:
AMS
AMI
Founded In
1960
1929
AMI-USA (The US branch): 1972
Founder
Nancy McCormick Rambusch
Maria Montessori
Training Centers
Approximately 100
Approximately 65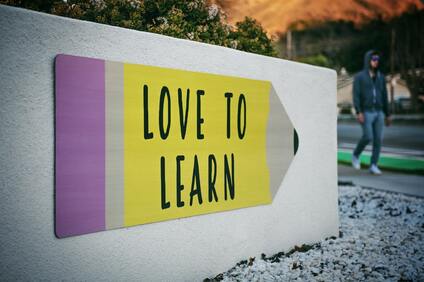 What is MACTE?
MACTE stands for the Montessori Accreditation Council for Teacher Education. It is an Accreditation body for Montessori teacher education programs. Getting accredited through MACTE is not required, but it does set a very high standard for Montessori Teacher Education programs to follow and adhere to.
MACTE is accredited by the United States Department of Education. MACTE also accredits many international programs. It is also recognized by the Teacher Education Accreditation Council (TEAC) and the National Council for the Accreditation of Teacher Education (NCATE).
All AMS (American Montessori Society) teacher education programs are accredited through MACTE. They also have programs through the following affiliated Montessori teacher education programs listed on their website, as of August 22, 2021. This list may change. You can see an updated list, as well as previously accredited programs, on their website. You can click on the name of the program below to be taken to the training program's website:
Pan American Montessori Society (no link found)
Montessori Institute of America (no link found)
When contacting any school, discuss with them their current MACTE status. This page may not be updated and the schools may no longer be accredited through MACTE, they may have joined MACTE after I made this page, or they may have never had any affiliation with MACTE. Again, MACTE Accreditation may not necessarily be needed to your particular situation, but you want to make sure the information you have is accurate and that is an important piece of information to have.
Top 5 Considerations When Selecting a Training Program
I cannot answer questions about the specific program you are looking at or even begin to list what else is out there (since there are so many). It is best to prepare thoughts on what you need and decide if you want to continue with one training program over another. But here are the top five main things to consider when choosing a Montessori Teacher Education program: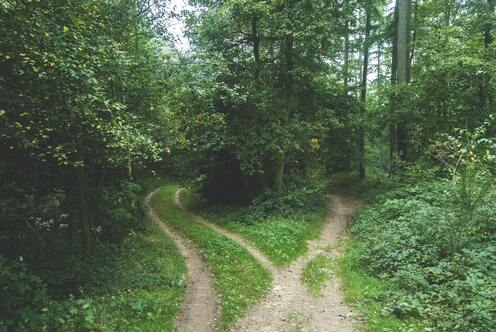 1. Why do you want take Montessori training?
Montessori training is a LOT of work. Think about why you want to take the training. Is it for a career? If so, you may need something with a stronger certificate from the organizations above. If it is for homeschooling your own child, you might be able to take a more affordable training course that you can do online, that while it often comes with a certifiate, might not be recognized in schools. Make sure the training lines up with your reasons for wanting to take it.
2. Where are you located?
Where you are plays a more important role than you may think. Is there even a teacher training center nearby? Even more importantly, if you are looking to become a teacher, my first piece of advice to people is visit schools in your area and ask them what training their teachers have and what they are looking for in terms of a credential. Some might only take AMS or AMI. Some might be willing to take either of those, or any MACTE credential. Some, especially in places where it is hard to get trained, might have an online one they would agree to.
This also brings up the issue of whether you are sure you want to stay in that area you live. If you're investing a few thousand dollars into a Montessori course because it is accepted in your area, then you move to a larger city a year or two later where they are looking for a more recognized credential, it may be worth waiting until you move to begin your training.
3. What are your long-term goals in Montessori teaching?
One other consideration are your long-term goals. You may want to work in a teacher training center yourself and that may require you to have an AMS, AMI, or MACTE certificate. As it stands right now, AMI will only take AMI-trained teachers to become instructors in their programs. AMS is set up a differently and this is vague so as to not confuse you, but I lose some exactness when I say this: they allow for many more programs, but not all. If you have AMS, AMI, or any MACTE program, you might be able to teach at a training center, but AMS does prefer AMS teachers in their programs. (I believe a certain percentage have to be AMS, but I do not recall exactly). These are questions you can ask when you meet with the teacher training center.
4. What is your schedule like?
Becoming a Montessori teacher is a LOT of work. Programs do offer different time frames in courses:
A Summer Intensive Course: where you get all the in-class work done over a summer.
Courses that continue through the year.
University Courses: Where you can get your Bachelor's or Master's degree in Montessori Education.
Online courses, which offer much more freedom in your schedule.
You will have to balance the needs of your life vs. what the schedule of the classes are like.
While we are on the note of scheduling, it would be a good time to also mention figuring out what the internship schedule will be like. If you're giving up a half year to a year in the classroom, that would be good to know ahead of time. Some schools do offer paid internships, so hopefully you can land one of those.
5. How inspired are you?
Not many people think about this before they walk in, but you may meet a director of a program that you are just inspired by. This may be the perfect person to talk to and get to know their program.
A good friend of mine was inspired to take Montessori training after a workshop I gave. During her training, she said, "I originally took the training to be a better teacher. Then I realized it was great because I was becoming a better mother. Then I realized I was becoming a better person." You might think you're going in to teach and change lives, but never forget that Montessori TRAINING is about changing the adult.

Good luck on your journey. I would love to hear about it. Check out my page on Facebook at Montessori Cool Things or drop me an email at my contact page to tell me about it.
---
Matt Bronsil is the author of these posts. He can be contacted at MattBronsilMontessori@gmail.com. To contact him or sign up for updates to the site, visit the contact page.
<<< Back to the full article list <<<
Recommended Books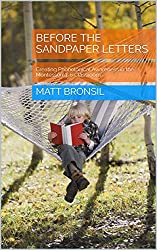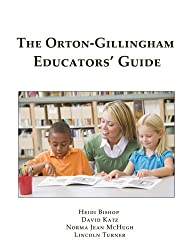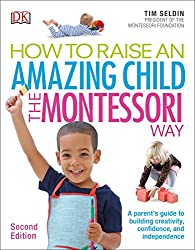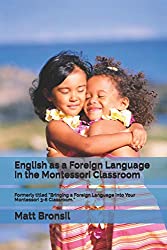 Montessori Second/Foreign Language Blogs