History of the Montessori Method
---
by Matt Bronsil, author of English as a Foreign Language in the Montessori Classroom
Maria Tecla Artemisia Montessori (August 31, 1870-May 6, 1952) was an Italian medical doctor and educator known for the Montessori method of education. Her work began in Italy, but become a world-wide educational movement beginning in the early part of the twentieth century. She died at the age of 81.
Links to Different Sections:
Early Life and Education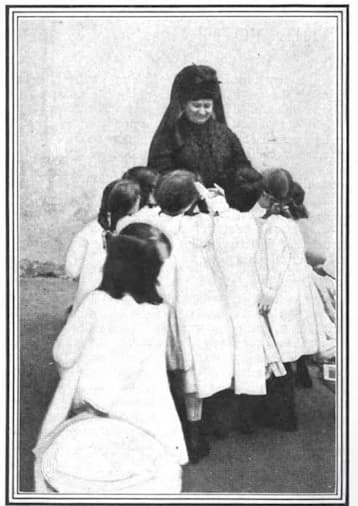 Maria Montessori with Children

Maria Tecla Artemisia Montessori was born on August 31, 1870 in the town of Chiaravalle, Italy. Her father, Allesandro Montessori, was a retired army officer. Maria found a lot of inspiration in her mother, Renilde Stoppani Montessori, a very smart and well-educated woman whom Maria saw as an excellent role model. Her father's work took her Florence in 1873, then to Rome in 1875.
Her elementary school years were largely uneventful. She did well in school, but found it boring and not really catered to her interests. She even once quipped she would be "anything BUT a teacher!" One of the most famous educators in the 20th Century could not bring herself to imagine putting children through the boring lessons of public school. Yet, it was this uninterest in traditional schools that lead Montessori to develop something drastically different.
Later Education and Undergraduate Degree
Maria later attended a secondary and technical school, Regia Scuola Tecnica Michelangelo Buonarroti. She graduated in 1886 and continued studying at another technical school, Regio Istituto Tecnico Leonardo da Vinci.. When she graduated in 1890, she wanted to become an engineer (an unusual career choice for a woman at the time), but her interests soon took her to an even bolder choice: she chose to become a medical doctor. She met with Guido Baccelli, the head of the medical program at the University of Rome. He basically told her it would never happen. Montessori reportedly left the meeting and told him that she would indeed become a medical doctor.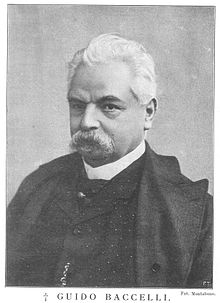 Above is a photo of Guido Baccelli and it is easy to just imagine him saying, "No!" to Maria and being a stickler about it. Most Montessori websites simply leave the dialog at that point. It is worth noting he was a highly respected and important physician in Rome at the time. He was an environmentalist, starting the first arbor day in Rome in 1899, where over 5000 students participated to plant over 500 trees. He pushed for a new law: Sul lavoro delle donne e dei fanciulli, which protected working rights and better conditions for woman and children. He was also an active researcher on malaria. That's just to list a few. Baccelli was someone who pushed for progress, but it is very likely he was not at the point to even imagine a female doctor at the time.
Montessori went on to study at the University of Rome in 1890 to obtain her a natural science degree, which she received in 1892. Her degree plus her extra studies allowed her to qualify for medical school at the University of Rome.
Medical School and Early Medical Career
Montessori had to work under less than desirable conditions throughout her time in medical school. She had to be alone at night in many of the labs since it was improper at the time for females to be in the labs with males at the time. She also often had trouble gaining respect from her classmates, with them kicking the back of her chair in class or even being secluded from sitting with the class. A famous story Montessori liked to tell was that once when she was leaving the lab out of frustration, she encountered a poor child on the way home. The child was playing with a piece of paper and seemed so focused on it. Something about that struck Montessori in such a way that she decided to go back to the lab and continue working. She made it through the program and graduated in 1896, becoming one of Italy's first female medical doctors. (Note: many websites claim she was the first female medical doctor in Italy. She certainly became the most well known and was the first to graduate from the University of Rome, but she was not the first. There are others who came before her. She (and others) may have thought she was the first, as I am sure there was not a facebook group back then called "Italian Female Doctors" to really easily connect).
Montessori worked as a member of the University's psychology program. In 1898 she was appointed director of the State Orthophrenic School in Rome. She began working with the "phrenasthenic" children. This is an outdated term given to people with any sort of mental challenge: mental retardation, autism, or anything that prevented them from being in a "normal" classroom environment successfully. It was there that she realized the importance of a good environment. She theorized that, in the right environment, the children who were otherwise labelled as "deficient children" (the term used at the time) could learn many skills if given the proper environment. She ended up teaching these children so well that they ended up testing above average on the Italian standardized tests. This made her curious as to how her ideas would work on children that did not face a host of learning disabilities.
First Casa dei Bambini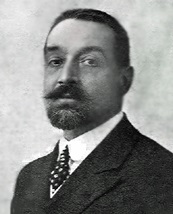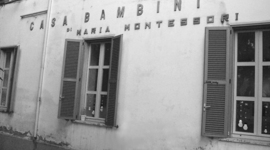 Pictured: Edoardo Talamo and the first Montessori School, the Casa dei Bambini
Eduardo Talamo was an Italian politician and director of the Roman Institute of Beni Stalili, which helped develop neighborhoods in Rome for less affluent families. Talamo was interested in improving the quality of life of the neighborhoods, providing them with schools, clinics, and libraries. After much success with her program for the children with learning difficulties, Montessori was offered a unique opportunity to test her educational ideas on other children to see how well they work. In 1906, she was asked by Talamo to take charge of a school in the San Lorenzo district of Rome. San Lorenzo was a run down area in Rome and Talamo believed strongly that children needed a nice living space to grow up in. With the parents at work or away during the day, the children were left alone and often did damage to the apartments. Eduardo hoped to bring a quality educational setting for the children, as well as a way to keep them from (quite frankly) destroying the property investment.
Initially, the idea was for the teacher to provide students with the work. However, an interesting thing happened one day when the teacher was late and the children managed to find their way into the school. They chose work, worked on it, and returned it to the cabinet. The teacher in charge was in shock, but Maria Montessori interpreted this to mean that the children should be allowed to select their work and be responsible for it. This freedom became a key part of the Montessori movement.
The Spread of Montessori Through Europe
Montessori's second school was opened in April, 1907. The second school found similar results in children, and the method's popularity began to grow. Over time, Maria Montessori not only taught these children how to become more independent, but also how to read, do math, and work on other academic skills that most considered far beyond the abilities of children this young. The results were also effortless. It was not uncommon for visitors to ask a student, "Who taught you to read?" The students' replies were usually very similar. Finding it a strange question, they would say, "Nobody taught me to read. I simply know how to do it."
In just a few years, Dr. Montessori's methods became used in the public schools in Italy and Switzerland. There were also plans to use her ideas and methods in other countries of Europe. In 1913, the first international training course became available in Rome. It drew people from far away countries, including America and China.
In 1915, Maria Montessori moved to Barcelona, Spain, where the Catalan government sponsored much of her work. Her next international training course happened in Spain in 1916, and published the Advanced Montessori Method the following year. Official support from the Catalan government ended in 1920 when she refused to take a political stance in favor of Catalanian independence.
By the 1920s, Montessori was in several countries and becoming a worldwide phenomenon.
Montessori Movement in America
Related Webinar: First Montessori Movement in America
Related Blog: McClure's Magazine
Before Montessori ran her training course in Rome, her popularity spread in America, largely due to a popular magazine, McClure's Magazine. When she ran her first training course in Italy, 80% of the students (67 out of 83) were from America. The first American Montessori school opened in 1911 in Terrytown, New York. Alexander Graham Bell and his wife opened a second Montessori school in their home in Canada.
Due to a falling out with S. S. McClure (read the related blog for more information) and the opening of the Panama Canal in 1914, Montessori now took her training to the West Coast of California. Her work was demonstrated at the Panama-Pacific International Exposition, where a glass-enclosed classroom was set up. 21 students attended the classroom. Montessori ended up cutting this trip short when she received word of her father's death.
The Montessori Movement in America slowly faded away until 1960 when Nancy McCormick Rambusch started the American Montessori Society in 1960.
Maria Montessori's Son
Related Blog: Mario Montessori
At one point in her career, Dr. Montessori worked with another doctor named Giusseppe Montesano and, as things often do, a romance developed. On March 31, 1898, Maria Montessori gave birth to a boy. Montessori was faced with a difficult choice for that time in Italy. Marrying Montesano would mean giving up her career to stay at home and raise her son, a career that had defined exactly who she was and fought against so much oppression to get to. Not marrying and raising a child alone would have been a terrible stigma given the social situation at the time. A difficult decision was made to quietly have the child, and send it off to live elsewhere. Montessori and Montesano agreed they would do this, as long as they never married anyone. Mario Pippili was born and registered as having "unknown parents" and was sent off to live with a family in the countryside.
Mario and Maria eventually reunited and they became inseparable. He saw her off during her first trip to America in 1913 and came with her in 1915 on her second trip. Mario became a driving force in the Montessori movement worldwide.
Maria Montessori's Continued Work and Death
Maria Montessori spent the rest of her life working towards her dream. In 1929, Dr. Montessori and Mario Montessori founded the Association Montessori Internationalle. In 1936, she left her home in Barcelona and moved to the UK, shortly afterwhich she moved to the Netherlands. While Montessori was in India, Italy went to war and the UK interned any Italians in their territories. India, being a territory of the UK, meant that Montessori was limited in what she could do. She was to stay in the Theolosophical Society compound, where she was giving her lectures. Mario Montessori was interned for two months. They stayed in India and developed the idea of Cosmic Education, especially in the hilly area of Kodaikanal.
Montessori still continued to work until her final days. In December, 1951, she gave a speech highlighting the need for children to have a universal bill of rights. On May 6, 1952, Maria Montessori was sitting in the garden of a house owned by friends in Noordwijk an Zee, a village on the Dutch coast. She was discussing with her son, Mario, whether or not to go to Africa, but at 81 years old, she seemed too frail to travel. It was suggested that people travel to Africa and give the lectures and training in her place.
She asked one question: "Am I no longer of any use then?" An hour later she was dead of a cerebral haemorrhage.
So ended a life that started in Italy in 1870 and a career that began after she was the first woman to graduate in medicine from Rome University. Ironically, she had always hated the idea of being a teacher, but after joining the staff of the university's psychiatric clinic, she found herself fascinated by the challenge of educating mentally subnormal children. Montessori died on May 6, 1952, at the age of 81. She is buried in the Roman Catholic cemetery at Noordwijk.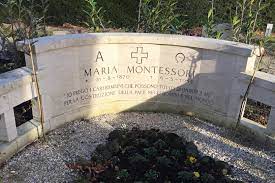 Maria Montessori's Grave
Matt Bronsil is the author of these posts. He can be contacted at MattBronsilMontessori@gmail.com. To subscribe to the email list, sign up on our contact page and you will receive an email when the list is updated.
<<< Back to the article list <<<
Recommended Books on Montessori History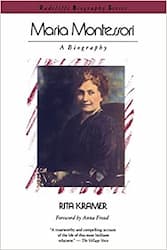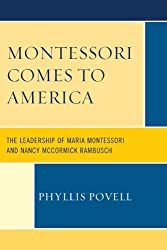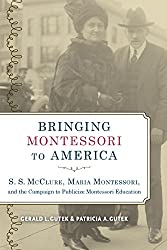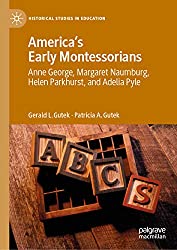 Montessori History Blogs